I accidentally discovered that the fastest charger for my Motorola Atrix so far is actually a Barnes & Noble Nook charger. I'm blogging about this because the charging time of Atrix is a major point of contention, and it drives me crazy.
My Atrix takes forever to charge with the Original Equipment (OEM) factory charger. For the record, I've never been impressed with Micro-USB chargers. If the battery is around 30% – 40% when first plugged into the charger, it takes up to 5 – 6 hours to reach a full charge. This is painfully long especially in comparison to my retired Google Ion that always seemed to get fully charged in less than an hour. Often-times I walk-around with a half-charged phone because every time I pull it off the charger to go to a meeting, it has only charged a fraction of a percentage more than it had an hour earlier.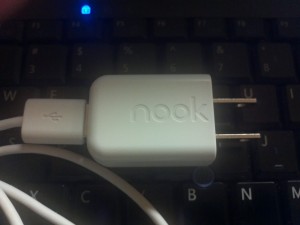 I've tried a number of different chargers including ones from my HTC EVO. Then at a recent out-of-town trip, I lost my factory charger and decided that since the Nook charger had the same type of USB plug, same voltage and amperage rating that I'd give it a try. At the time that seemed better than running out and buying a new one at the AT&T store. What happened next really surprised me. The Atrix charged from 50% to 100% in about two hours. In general, this charger consistently charged my phone faster.
Now before you blast me about slow chargers are the best way to go, keep in mind this was just an experiment and this post comes with a large amount of CAVEAT EMPTOR:
WARNING – Motorola ONLY recommends using approved chargers with their phones, so if you mess up your battery or phone don't blame me. Furthermore, if you run out and purchase a Nook charger there is no gaurantee it will perform the same.
If you've had any better/different experiences with other charges please post a comment.
Reference:
Barnes & Nobel Nook Charger – Model No. BNRP5-850, Output: 5v @ 0.85A