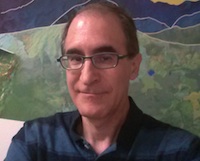 By day I'm a Developer Evangelist for Esri helping developers around the world build cool web, mobile web and native mobile applications. The bulk of my time is spent on JavaScript and native Android. I've worked on everything from small sites to enterprise sites requiring five-nines availability.

On weekends, and other times too, you'll find me hiking and mountaineering with family and friends up as high in the mountains as possible taking in fresh air and beautiful scenery. I also spend considerable hours on the trail as a volunteer U.S. Forest Service Wilderness Ranger.
So, why Blog? This blog is dedicated to helping keeping track of all my well intentioned notes.  Also, more often than not the information found through internet searches usually doesn't paint the complete picture for my exact problem. And, that's were this blog kicks in. Now I can easily search my notes, and I'm sharing my findings so that hopefully others, such as you, may benefit. 
My goal is to share ideas and spark conversation. So read on, share your experience too by posting comments or sending me emails and don't forget to be nice about it!
Contact Me: Email questions/comments to stuff at andygup dot net. Also, please follow me on Twitter @agup, Linked-in, and github.
None of my opinions reflects opinions or views by my employer, Esri. This is my personal blog that I provide "AS IS" with no warranties and confers no rights. The postings on this site are my own creation.
Tags: Andy Gup, developer, JavaScript, CSS, C#, PhoneGap, Cordova, Android, Java, Esri, web, mobile, USFS.